Maths w/b 15th June 2020
Mathematics
Home learning activities for the week beginning 27/04/20
This page is currently in the process of being updated.
We have set an Assessment for you to complete on Sumdog called Home learning- Week beginning 27.04.20. This is to recap on all of the learning you have already completed.
Statistics
Lesson 1 - Making and interpreting tally charts.
What is a tally chart?
Try to think back to our Year 2 birdwatch as we recorded how many of each type of bird we saw using a tally chart.
Why do we use tally charts?
Tally charts are a method used to collect information (data) quickly as a running total.
How do we record information in a tally chart?
We would start with an empty tally chart like this one. This tally chart is collecting information about what different people's favourite part of Christmas is: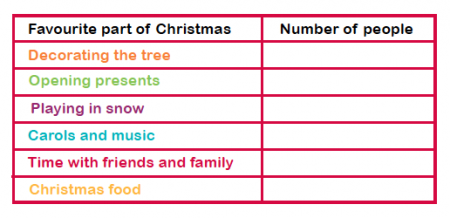 When collecting the information, for every person who liked a particular part of Christmas the most, a line (tally mark) would be drawn in the correct box. When you get to five lines, the fifth line needs to be crossed through the first four. (This makes counting the lines at the end easier!)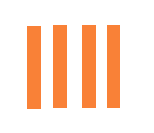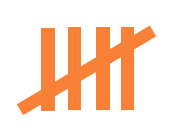 The finished tally chart might look like this: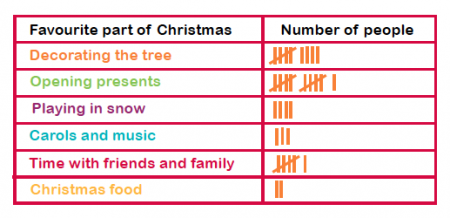 Check your understanding by asking your adult at home to give you a number, between 0-10 to begin with, and see if you can represent it using tally marks.
Now see if you can complete the Making tally charts activity (see file attached). If you manage to complete this, why not try the Tally chart extension task?
Lesson 2 - Drawing Pictograms
Please start with the PowerPoint to demonstrate how to use tally chart data to create a pictogram.
Now try to complete Pictogram Challenge 1. If you complete this successfully, please move on to Pictogram Challenge 2.
Extension: Garden Maths (see file attached)
Additional resources
See the file named 'Maths Challenges' for additional fun activities that you can try with your adults at home. Remember, there are some topics on here that we have not yet covered (e.g. time), so please do not feel like you have to have a go at them all.
Files to Download